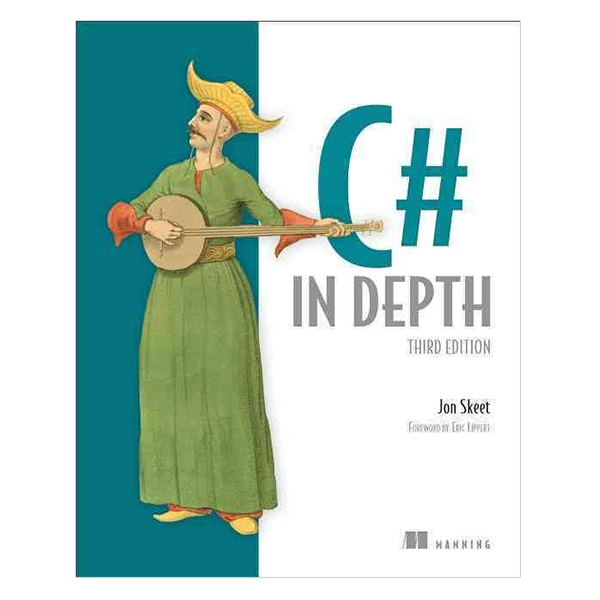 C# in Depth
Summary
C# in Depth, Third Edition updates the best-selling second edition to cover the new features of C# 5, including the challenges of writing maintainable asynchronous code. It preserves the uniquely insightful look into the tricky areas and dusty corners of C# that only expert Jon Skeet can provide.
About this Book
If you're a .NET developer, you'll use C# whether you're building an advanced enterprise application or just slamming out a quick app. In C# 5, you can do amazing things with generics, lambda expressions, dynamic typing, LINQ, iterator blocks, and other features. But first you have to learn it in depth.
C# in Depth, Third Edition has been thoroughly revised to cover the new features of C# 5, including the subtleties of writing maintainable asynchronous code. You'll see the power of C# in action, learning how to work with high-value features that you'll be glad to have in your toolkit. And you'll learn to avoid hidden pitfalls of C# programming with the help of crystal clear explanations of "behind the scenes" issues.
This book assumes you've digested your first C# book and are hungry for more!
Purchase of the print book includes a free eBook in PDF, Kindle, and ePub formats from Manning Publications.
What's Inside
Updated for C# 5
The new async/await feature
How C# works and why
About the Author
Jon Skeet is a Senior Software Engineer at Google, and a highly visible participant of newsgroups, user groups, international conferences, and the Stack Overflow Q&A site. Jon spends much of his day coding in Java, but his heart belongs to C#.
Table of Contents
PART 1 PREPARING FOR THE JOURNEY
The changing face of C# development
Core foundations: building on C# 1
PART 2 C# 2: SOLVING THE ISSUES OF C# 1
Parameterized typing with generics
Saying nothing with nullable types
Fast-tracked delegates
Implementing iterators the easy way
Concluding C# 2: the final features
PART 3 C# 3: REVOLUTIONIZING DATA ACCESS
Cutting fluff with a smart compiler
Lambda expressions and expression trees
Extension methods
Query expressions and LINQ to Objects
LINQ beyond collections
PART 4 C# 4: PLAYING NICELY WITH OTHERS
Minor changes to simplify code
Dynamic binding in a static language
PART 5 C# 5: ASYNCHRONY MADE SIMPLE
Asynchrony with async/await
C# 5 bonus features and closing thoughts
,A guide to the key topics of C# covers lambda expressions, LINQ, generics, nullable types, iterators, and extension methods.
* Giá sản phẩm trên Tiki đã bao gồm thuế theo luật hiện hành. Tuy nhiên tuỳ vào từng loại sản phẩm hoặc phương thức, địa chỉ giao hàng mà có thể phát sinh thêm chi phí khác như phí vận chuyển, phụ phí hàng cồng kềnh, ..

Khuyến mãi HOT

Sendo giảm 500K

Shopee giảm giá

Lazada Voucher