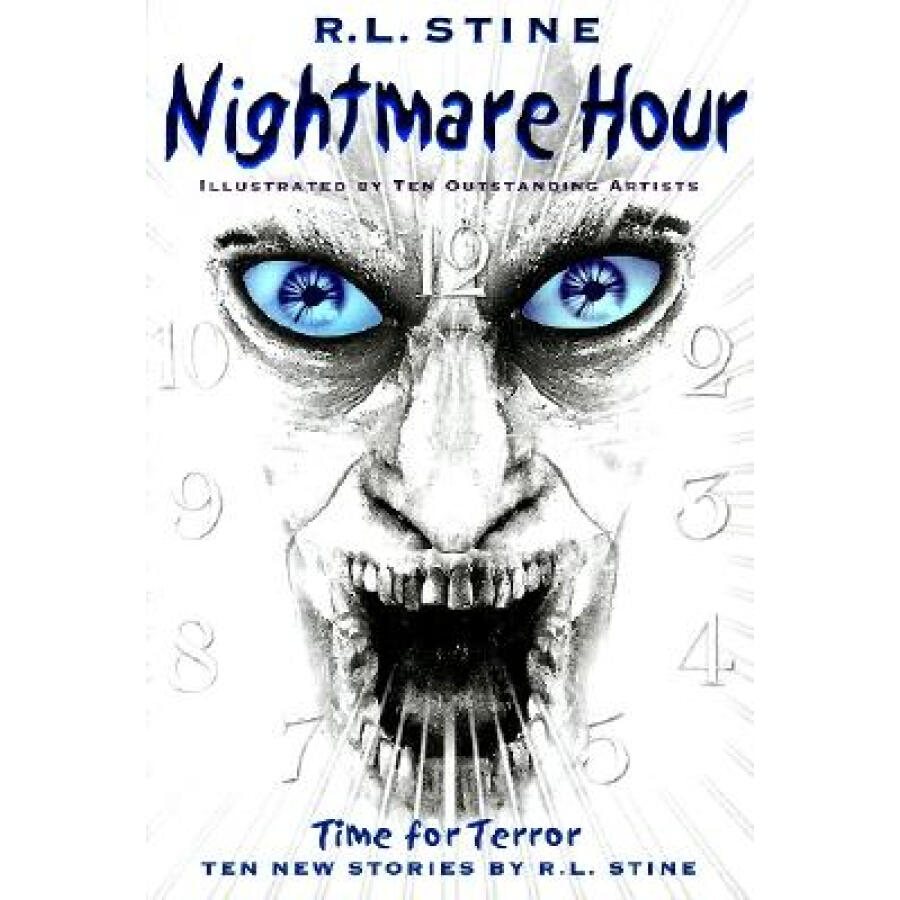 Nightmare Hour (Reprint Edition)
Among the scariest of elements in this collection is the full-spread black-and-white artwork, contributed by an array of different artists, that sets the stage for each of the 10 stories. For a taut, harrowing tale of mistaken identity set in the children's ward of a hospital on Halloween night, "I'm Not Martin," Clay Patrick McBride creates a photocollage of a ward with an oversize, eyeless doll's head, holding an IV bottle on a pole in one hand and a human foot in the other, as a boy peers through a curtained screen. The impressive roster of illustrators also includes Edward Koren, Gary Kelley and Mark Summers. The author offers additional eerie lead-ins to the tales with his brief introductions, in which he describes alleged incidents that prompted his plots. For instance, the setting for "Nightmare Inn"Astarring a girl who encounters a pair of werewolves in the run-down establishment her mother plans to purchaseAwas inspired by Stine's stay in a sprawling New England inn in which he was the only guest. The author's many fans will surely look over their shoulders once or twice while engrossed in these pages. And they will be pleased to discover the low price of this handsomely designed hardcover.Grade 5 Up-A collection of 10 short stories that takes ordinary people and events and turns them into the bizarre by changing the perspective. The 12-to-18 page stories are carefully fashioned to have the maximum impact with minimum words, and are truly terrifying. The haunting mood will linger with readers long after the book is completed. After reading "Afraid of Clowns," they'll never look at a circus clown in the same way ever again. Each tale opens with a double-page, black-and-white line drawing. The front cover has Stine's name at the bottom and top, and if that doesn't draw readers, the iridescent eyes that seem to follow them will. While longer than Alvin Schwartz's "Scary Stories" trio (HarperCollins), and less "ghostly" than Great Ghost Stories, edited by Barry Moser (Morrow, 1998), these tales will be a hit in read-alouds with older readers. They also have great potential for introducing and enhancing a creative-writing unit. The author's name alone makes this a "must buy," and it's guaranteed to produce goosebumps. "These are my scariest stories ever," says R.L. Stine, "because I wrote them at the Nightmare Hour." You know when that is...it's when the lights fade, the real world spins into shadow--and the cold, moonlit world of evil dreams takes over your mind. 
What horror awaits a boy who has to spend Halloween in the hospital? How do you outwit a ghost who wants your skin? Why is Nightmare Inn the most terrifying place to visit? 
R.L. Stine, the #1 bestselling children's authors of all time, spins a web of horror and more. For the first time ever, he shares the secret behind each story, revealing where the idea for each tale came from. 
Here are ten stories that will bring a shiver at any hour and take you to the scariest place of all--inside the mind of R.L. Stine. R.L. Stine began his writing career at the age of nine and has been at it ever since, becoming a bestselling author several times over. Among his many groundbreaking credits are Fear Street, the first young adult horror series, and Goosebumps, the bestselling series that made Stine the #1 best-selling author in America for three years in a row. He lives with his wife in New York City. Chapter One
"Halloween is ruined! Mike declared. It's no fun trick-or-treating while it's still light out! Why do we have to be home by eight o'clock?
Mom rolled her eyes. Get in the car, she told him. And stop complaining. You know why there's a curfew this year.
Because parents are stupid, Mike grumbled.
Because those kids disappeared last Halloween, I said. And the Halloween before.
Mike shrugged. What's that got to do with us?
Come on, Mike, I said. Get in the car. Liz and I want to get going.
But I don't want to pick pumpkins. It's bor-ring. Mike crossed his skinny arms over his chest and made his pouty face. Why do we have to go?
Because we do it every year, Mom replied patiently. She is used to Mike's tantrums. We all are.
Let's skip it and pretend we went, Mike said. He's a real wise guy. Mike is ten, two years younger than me, and he's angry all the time.
Mom says he can't help it because he's a redhead. Redheads have tempers, she says.
I don't know what red hair has to do with it. Mike is always growling and complaining and shaking his fists and looking for trouble.
He got into a fight in school last week and had two of his teeth knocked out. Luckily, they were already loose.
He looked like a jack-o'-lantern with those two teeth out. But when I made a joke about it, he punched me really hard in the stomach and I almost puked up my whole dinner.
Come on, Mike. Let's go, I said. I gave him a playful bump from behind to get him moving.
He spun around and swung a fist at me. Watch it, Andrew!
Hey! I laughed. It was an accident!
Your face is an accident! Mike snapped.
Come on, Mike, my friend Liz chimed in. I've never picked pumpkins before. You can help me find a good one.
Mike likes Liz. He's usually on pretty good behavior when she's around. Still pouting, he climbed into the front seat of the car.
Liz and I rolled our eyes, relieved that we were finally on our way. We climbed into the backseat and buckled our seatbelts.
Liz is twelve like me, and she lives across the street. But her parents both work till late every day, so Liz spends a lot of time at our house.
We both gazed out the window, watching the trees whir past. Autumn leaves fell all around, like red and yellow rain. Soon the trees ended, and we zoomed past farms and fields plowed over for winter.
Well, are you going to help me pick a pumpkin, Mike?
Liz asked.
Yeah. Just don't let Andrew help you, Mike replied. Andrew's pumpkins are always rotten inside. Just like him.
Whatever, I said. I knew he was just looking for a fight, but I really hate arguing with him all the time. Why does he always have to be so wired?
I peered out the window and saw an orange, pumpkin-shaped sign on the side of the road. It said: palmer's pumpkin farm, 1 mile.
I pictured Mr. Palmer, the owner of the pumpkin farm. What a scary guy. He reminded me of one of his scarecrows: tall and skinny, wearing overalls that were way too big for him. He always walked so stiffly, patrolling his fields, staring at everyone with frightening, blank eyes that looked like deep, dark holes in his face.
Here we are, Mom said brightly. She turned into the long gravel driveway and followed it to the parking lot. Four or five cars were parked near the ragged wooden fence.
I climbed out of the car and stretched my arms over my head. It was a sunny day, cold for October. I could see my breath steam in front of me. The farm air smelled fresh and sweet.
A young woman in an orange parka and orange wool ski cap greeted us at the gate. The pumpkins on the first hill are a little too ripe, she told us. And the ones near this gate have already been picked over. Try the next field.
We thanked her and started through the gate. Oh--one more thing... she called after us. She pointed to the left. See that tall, green wooden fence over there? Mr. Palmer doesn't want anyone near that fence, okay?
Why not? Mike asked. What's over there? Typical Mike.
That's Mr. Palmer's private pumpkin patch, the young woman answered.
We made our way through the gate. The pumpkin fields stretched on forever, uphill then down, as far as I could see. Slender, green vines unfurled like long snakes over the dirt. At the ends of the vines sat pumpkins--all different sizes, hundreds and hundreds of them, like orange balloons tethered to the ground.
Scarecrows on tall poles tilted over the pumpkins. They were just old coats stuffed with straw. But from a distance they looked like tired old men leaning against the wind.
Hey, Andrew, Mike whispered, trotting to keep up with Liz and me. Let's check out Palmer's private patch. I'll bet he keeps the best pumpkins there.
No way! I said. Try not to get us in trouble today. Okay?
Wimp, Mike muttered.
I ignored him. I really didn't want to fight.
My sneakers scraped over the hard dirt as I led the way to the rows of pumpkins. Peering into the glare of afternoon sunlight, I saw two kids at the top of the first hill. They came staggering down, struggling to carry an enormous pumpkin between them.
Mike laughed. Look at those geeks. They'll never make it.
He bent and scooped up a softball-sized pumpkin from the dirt. Think fast, Andrew! He tossed it at me.
Startled, I raised my hands too late. The pumpkin sailed over my shoulder and landed on the ground with a splat.
* Giá sản phẩm trên Tiki đã bao gồm thuế theo luật hiện hành. Tuy nhiên tuỳ vào từng loại sản phẩm hoặc phương thức, địa chỉ giao hàng mà có thể phát sinh thêm chi phí khác như phí vận chuyển, phụ phí hàng cồng kềnh, ..

Khuyến mãi HOT

Sendo giảm 500K

Shopee giảm giá

Lazada Voucher