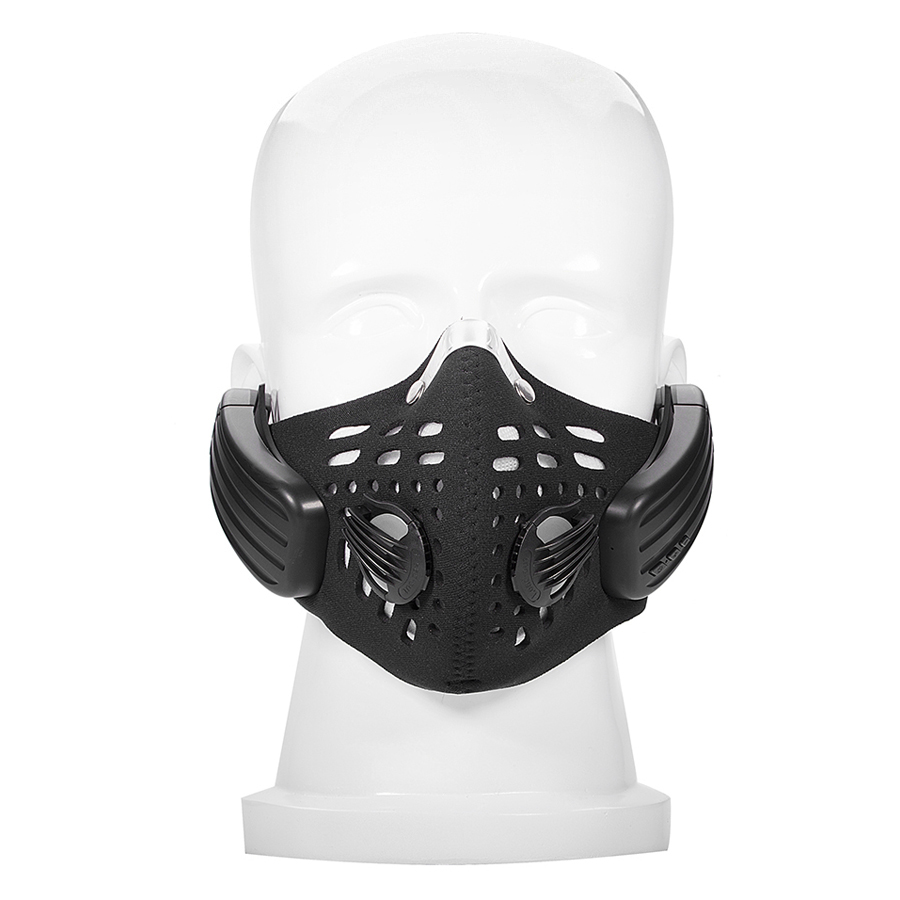 Giá chuẩn: 2,125,000 vnđ
Khuyến mãi đến: 106,000 vnđ
Chỉ còn: 2,019,000 vnđ
​Wireless Rechargeable Smart BT4.0 Professional Haze Dust Resistant Music Bone Conduction Headphone Anti-pollution - Black
This head set uses the bone conduction theory so the sound can pass through the skull directly to the auditory center, which eliminates many steps for acoustic transmission. It can achieve clear sound transmission in a noisy environment where you can also clarify the noise from outside. With profession haze-resistant mask, this product can filter out exhaust including haze, dust, suspended particles and so on. The filter is specially suitable for sports like running, cycling, jogging, etc.
Features:
HIGH-TECH: Adopt HD BT4.0 wireless technology to transfer music and phone calls. Integrated with high-tech bone conduction module, It can provide you fine-quality original sound with less harm to your eardrum, but more safety, comfort and health.
SAFE AND SOUND: Ensure you an easy call/answer and music listening in driving, riding and running. It is safer and sounder as you can also sense the surrounding sounds with professional filter.
PROFESSIONAL FILTER MASK: Ultra-fine filter, one-way filter valves and good breathability make it a professional filter mask that can filter out PM2.5, suspended particles, haze, dust, exhaust gas, and other particle with minimum diameter of 3 microns.
BREATHING WITH COMFORT: Unique one-way filter valves filter out your exhaling gas and prevent dirty air from filtering in. Plus the metal memory nose piece is for perfect facial fitting, non-falling off, free from dirty air.
ANTI-INTERFERENCE MICROPHONE: Built-in microphone with sensitivity up to 503dB, together with three-dimensional cutting mask that reserves sufficient space for helping you communicate clearly.
RECHARGEABLE: Charge with USB charging cable provided. Its play time is up to 7 hours, and the standby time reaches up to 15 days. Only take 2 hours to fully charged state.
EASY PAIRING WITH BT4.0: Press and hold the power button for 6 seconds until the indicator light flashes alternatively in blue and red, indicating the pairing mode, then click the Lead Out shown on the compatible phones.
Note: Please read the user manual carefully before you use it.
Specifications:
Color: Black / Camouflage 1 / Camouflage 2 (Optional)
Material: PC + ABS + Neoprene fabric
Speaker: Bone conduction speaker
Fully charging time: 2 hours
Technology: Wireless BT4.0
Transducer sensitivity: 1003dB
Microphone sensitivity: -503dB
Transmission range: Max. 15m if no blocks
Power supply: 320mAh Li battery
Standby time: 15 days
Play time: 7h (When fully charged)
Voice: Dimensional sound
Mask size: 26 * 14cm / 10.2 * 5.5in
Weight: 118g / 4.2oz
Package size: 22.5 * 19 * 7cm / 8.9 * 7.5 * 2.8in
Package weight: 315g / 11.1oz
Package List:
1 * Headphone Mask
2 * Filter Core
1 * USB Charging Cable
1 * Instruction Manual
* Giá sản phẩm trên Tiki đã bao gồm thuế theo luật hiện hành. Tuy nhiên tuỳ vào từng loại sản phẩm hoặc phương thức, địa chỉ giao hàng mà có thể phát sinh thêm chi phí khác như phí vận chuyển, phụ phí hàng cồng kềnh, ..

Khuyến mãi HOT

Sendo giảm 500K

Shopee giảm giá

Lazada Voucher