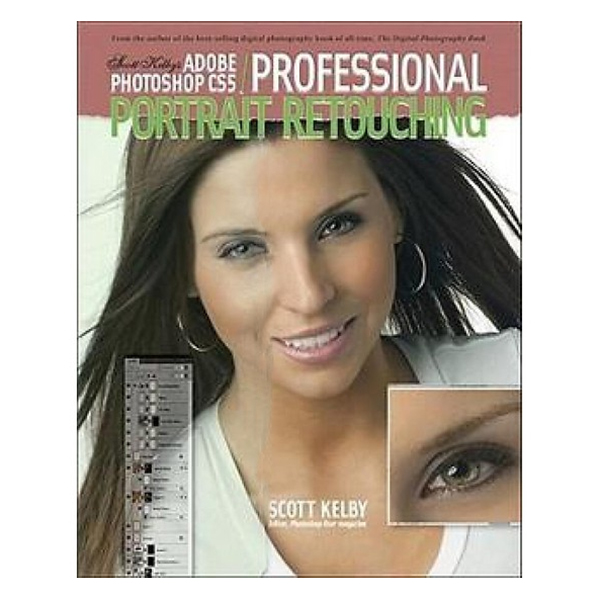 Professional Portrait Retouching Techniques for Photographers Using PhotoshopPhotoshop
For the first time, Scott Kelby has assembled all of his best Photoshop techniques for professionally retouching portraits and collected them here in this groundbreaking new volume. Beginning with the essentials, Scott starts with the eyes--in many portraits, the most important part of the picture. Scott shows how to brighten the eyes, create and enhance catchlights, and remove dark circles from under the eyes. He then moves on to such techniques as softening and smoothing skin, removing blemishes, touching up clothing and backgrounds, retouching the nose, removing wrinkles, removing stray hairs, and retouching and whitening teeth. All of these are truly professional techniques that Scott has simplified into an exact, step-by-step process in Photoshop CS5 that yields great results fast. Toward the end of the book, Scott takes the reader through his entire portrait retouching workflow from beginning to end. Armed with the best retouching practices, and in his easygoing and clear voice and style, Scott Kelby has created an instant bestseller that will quickly become an instant go-to resource for all photographers who want to improve their portraits.
* Giá sản phẩm trên Tiki đã bao gồm thuế theo luật hiện hành. Tuy nhiên tuỳ vào từng loại sản phẩm hoặc phương thức, địa chỉ giao hàng mà có thể phát sinh thêm chi phí khác như phí vận chuyển, phụ phí hàng cồng kềnh, ..

Khuyến mãi HOT

Sendo giảm 500K

Shopee giảm giá

Lazada Voucher