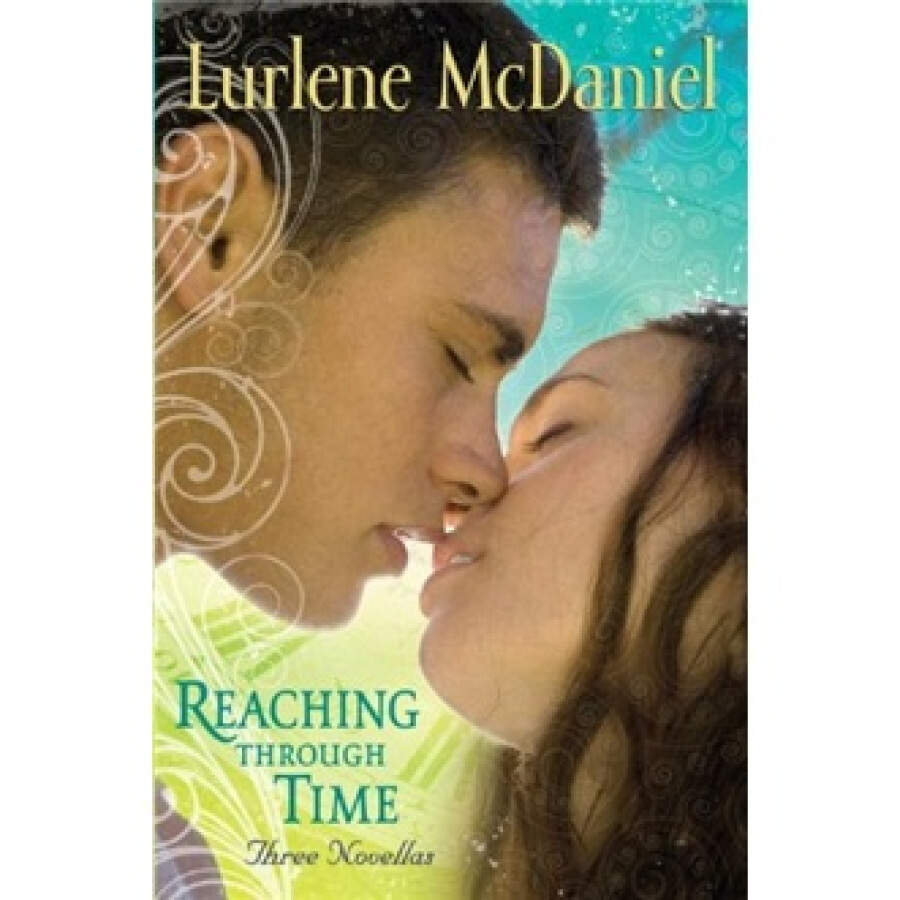 Reaching Through Time: Three Novellas
What's Happened to Me? Sarah finds herself in a strange place, and she can recall only one thing--her name. A young man, Heath de Charon, explains to Sarah that he found her unconscious on the grounds of his family's estate and has been caring for her. Sarah is thankful, but when she starts hearing voices that whisper for her to come back, she is confused, and desperate to find out where she really belongs. 
When the Clock Chimes 
Drake Iverson lands a summer job on Sandstone Mountain. There are no computers; he has to do all the work by hand in a large leather-bound book. He doesn't mind, as long as he can be near Gina, who is pretty and kind. But when Gina falls ill, Drake is asked to leave. He is determined to find out what happened to Gina and to uncover other mysteries he encounters on Sandstone Mountain. 
The Mysteries of Chance
Dylan Sorenson offers his help to a girl who seems to be in distress. The girl, Maura, explains that she's simply overwhelmed by the heat and quickly runs off. But Maura is soon drawn back to Dylan and a friendship and budding romance begins. However, Maura doesn't reveal the whole truth about herself, and Dylan has secrets of his own. Can their relationship withstand the deception? 
LURLENE MCDANIEL is the #1 author of inspirational fiction for young adults. She lives in Chattanooga, Tennessee.
"Teenage Sarah awakens in the mansion of ever-so-handsome, but disturbingly otherworldly Heath de Charon. She remembers nothing, but sometimes in quiet moments she can hear the voice of another young man calling her and pleading for her return. The foreseeable conclusion detracts from the ethereal creepiness of the tale. In the second story, 16-year-old Drake, mildly disabled by cerebral palsy, takes a job in the isolated mountaintop home of a professor, where he falls in love with the man's lovely, but unusual daughter. She won't leave the grounds of the house, and time has an odd way of standing almost still while Drake is there. His lack of suspicion in the face of the supernatural evidence will surprise readers. The final and strongest tale portrays an edgy teen from the future, Maura, who has stolen a time machine and randomly traveled to the present, where Dylan, a teen haunted by a girl from his past, befriends her. As Maura evades the time police, she gains an understanding of Dylan's true, though predictable, problem. Keeping the tales brief makes them relatively focused, and the varied looks at time travel are mildly thought-provoking."
--Kirkus Reviews
* Giá sản phẩm trên Tiki đã bao gồm thuế theo luật hiện hành. Tuy nhiên tuỳ vào từng loại sản phẩm hoặc phương thức, địa chỉ giao hàng mà có thể phát sinh thêm chi phí khác như phí vận chuyển, phụ phí hàng cồng kềnh, ..

Khuyến mãi HOT

Sendo giảm 500K

Shopee giảm giá

Lazada Voucher